Automotive additives for the Do it yourself person. For  Engine transmission etc.  Explained here. Sent to tour door in 3 days.  With directions and Free Phone Help. Contact Info: On a cell phone, to ask a question, order items listed, call me... george at 512 665 3388
Here's what works and what does not. Then  see our guarantee.
I found what additives works and use them - also learned which are harmful  - to stay away from. I'll show both on the page describing the purpose you want to accomplish. Could my experience help you, steer you along to find good additives for you to solve and prevent, event tune up your engine and other components? Yes!
Mike is like you and me liking to gain additive benefits. Here's what Mike said: 
Mike says...
While this site is to teach mechanics the tech side of additives, selling them the products that work, it is written so any non-mechanic car and equipment owner can end their vehicle problem just as professionally - for the best of care. 
My  car care method is to do a fluid replacement with a tune up additive kick! I'll show you what I mean and use to do that!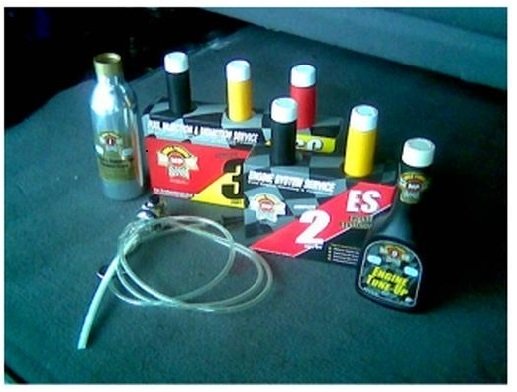 Tune it up chemically this way.
The picture shows my favorite engine treatment. Using 3 items for the top motor cleaning and protection, 3 for bottom oil side cleaning and protection. These have other component cleaning protecting values.
They meet and exceed new vehicle warranty servicing requirements.
Not just to avoid problems that cause engine and gear repair, but to keep engine transmission, steering, fuel and radiators chemically free of the troubles that start slow deterioration and the worn out effect. Avoid trouble, extend the life, recover and revitalize. That's a great reason to use additives in all your vehicles.
My method is to do a fluid replacement with a tune up additive kick! I select a treatment  -or put together one that removes residues, neutralize acids, heals any damage, fill worn surfaces, adds a slippery protector every  6 months for the engine and every 2 years for all other components. 
It offers what additive makes for the "other half of a repair" and what I call a additive  recondition of those half-worn dirty parts not replaced - during repair. My way is to reconditioned them chemically, with specific additives rather than just replace just the bad parts, and send customers out the door with old grinding away the new parts faster.  That's my additive option for you here! 
These auto tune up and repair options and additives will avoid the repair need, put it off for years possibly, yet instantly have your vehicles run noticeably better, then run cheaper, longer - avoiding, removing what can cause serious trouble - years to soon. That's the option here. Each is so well documented, we now guarantee the fix.
If you think an additive is what you need - before it turns into a costly repair... Or to avoid one! You came to the right place. ...

Auto repair OPTIONS is the one online DIY Do-it-yourself site to find the exact tip and product to end your cars wear, residue, even worn, and Hi-mileage problem fast.
Do so cheaply, and no special skill needed. I've made these options for mechanics, but easy for you or anyone to use to end your cars wear and performance problem.
To find your auto tune and repair option do one or all of the following.
If - a repair shop owner, looking for a specific tune and repair additives options,:
One of the following tips and products offer the solution - all, or the missing part to your fix. Read on below or above for your remedy.

Increase your tune repair expertise: By adding these options you learn about to your tune repair assist expertise to also increase your customer-pleasing tune repair, problem-solving results only our products can help you provide. That customer benefit will  keep your customers coming back oftener.

Select our additives products and their marketing program to set your shop apart as superior - because what we show you to do will amaze new and older customers results you produce with them - just plain parts changing and fuel injector cleaner can't produce.
Automotive additives for the Do it yourselfer.  Engine transmission etc, Explained here, order online, quick delivery, with FREE directions and phone help!

If - a car or equipment owner:
Looking for the perfect vehicle additives solution, find new and better products and tips to end your car problem - here.

Those additives work to also help you preserve more of your hard earned money by the economical factor of avoiding or putting off a repair - often for years to come like an overhaul, so you have more funds for other family needs. 

Show your family and friends this additives site and how to use it to reduce repair expenses and have better running cars, solve  their engine and gear wear and running problems with these new, better tune and repair avoiding options covered here.
How to proceed:
- you came here to see if what additives are offered will end your vehicle problem - avoid a costlier repair. It will! 

That's 

the option here; thousands are using them! Now its time to learn how to end your vehicles' problem, gain "more value"  from your 

fix, and stretch, possibly cut-in-half your car care and repair dollars. Gain an amazingly better, stronger running car, afterwards.



So, spend 10 minutes reading different fixes explained here, as well as your own, you will be more knowledgeable  getting your present car problem over with, in the cheapest, fastest, best way - now known.
To help you, this is the Nets largest collection of specific additives repair options listed by the trouble the vehicle has.
To find your auto tune and repair option do one or all of the following.
You have in this site - book mark it, products from science and chemistry that fix internal mechanical car problems that use to require costly tear down and repair. I'm the country's expert on them - so you have the best around explaining this. This site is really our text book to train repair shops on this form of customer car and equipment servicing. However...
This  brief time spent will empowered you - man or women, even mechanics, to try our fix, it's easy to do and nothing to take a part, and have a better running vehicle - one that will run amazing quiet, stronger, shift smoother., also - after the fix.
If a repair shop, offer more-profitable services that keep customers  coming back oftener.
If a car or equipment owner, find exact products and tips easy to end your car problem with. Those will work to help you keep more of your hard earned money available for other family needs. Show your family and friends how to do so also, here.
That's our auto tune up and repair option for you:

With it - fix any car pickup diesel truck tractor boat  RV race car motorcycle or machine 

running, performance problem like 

rough idle, 

valve tap, oil burning, sludge removal, blow-by, rough shift, leak, and the like. 
Now possible because for the first time a product  cleans, frees, smooths, and fills worn surface areas as a reconditioning advantage-
This ends those and 21 other problem causes, but also restores former like-new performance and years longer, trouble-free  life benefits - many invest in the product advantages for.
Just add to your vehicle by adding it to the fuel, oil, fluids, and drive. Driving does the fix!
This product ends the mechanical problems chemically.
In use by top mechanics to add cleaning and greater tune and repair horsepower enhancements,but easy for anyone to get advertised results.
Easy-to-follow directions and phone help with your order. FedEx in 3 days. Satisfaction Guarantee included. 
Each treatment contain over $300 retail if you could find them. Cheaper here as we sell direct.
First item below is the fix to end engine problems. 
Order at cart button below - or read full report and instruction 

here.

Then order.
No one likes car troubles! Even me - and I'm a mechanic!
With car and equipment troubles like you have, I started to search for the best, fastest, and cheapest long-term car care, and repair avoiding solutions to end them - and avoid a costly repair like you're trying to do. I made that my option.

With a car or equipment engine, transmission, or other component problem, I know it upsets a persons life, and suspect it could wreck your budget - And I'm here to pass on the tips, products, and directions to end your car truck tractor RV boat or motorcycle problems, in the best fastest cheapest way known.
To gain all that takes some reading around the site. You have not read enough if you don't conclude its the best and cheapest way to take care of all-your-cars new and older!  Here's why !
Using products with those advantages will end your cars problems, giving you a life long knowledge to continue to know how to avoid avoidable repairs.
Our auto tune up and repair options will also have your cars run great years pass what other can, using other options than the ones you are about to learn to use.
What else you should know.
The common way is to take your car apart to find and replace the bad or worn parts. The remaining half-worn parts mix with the new ones as the fix.
However, 999 times out of 1000 its friction and sticky residues causing your engine transmission or other component performance problem. 
Since that is so, chemistry and science have come up with products to end those negatives to restore function - and I'm here to show the way. You have the country's expert and mechanics tech trainer guiding you.

The rest of this page gives you info on that. What people say, and how to quickly find the tips, help and products to get your car fix and going strong again - yourself!
These options provide: Review.
An alternative to repair. This is the fix!
The "treatment" works on newer, or even worn out cars, pick ups, trucks, tractors, RV's boats and motorcycles.
This method restores the former great running performance again, avoiding the costlier repair choice to do so.
For Mechanics:

This site adds to your car care and repair expertise adding to your income growing ability.
It does so by teaching the tech side of how powerful new, engine transmission cleaning and conditioning products, and their services  that 

heal and smooth, and fill worn spaces on injectors pistons rings bearing valves gears seals and such.  No other product can do so.

This expertise attracts and keep customers by the ability for you to restore, enhance, and then keeps cars going strong - normally traded off for new. It time to learn more, to sell more, to earn more with our program for repair shop owners.
By making those advantages part of your tune ups, servicing, and repair strategy your customer treated cars will suddenly perform with a new zip, powerful quietness, and good as new dependability customers will love you for! 

This expertise assure compliments of powerful performance improvement the competition does not provide, and customers do not expect. Its what gets them to tell other about your enhanced car smarts, and bring in family and friends vehicles for such care.
Those value-added services, tips products and marketing help from auto-tune-up-and-repair-options.com  will be your Learn More, to Sell More, to Earn More source for years to come.