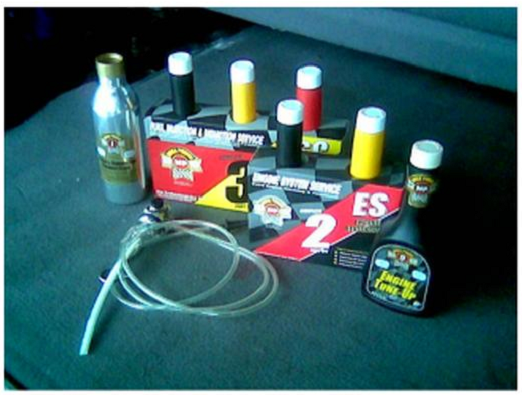 This engine oil treatment by Slo-wear is the best way to end oil burning.
Engine oil treatment contact info: On a smartphone, to ask a question, order items listed, call me...george at 512 665 3388
Slo-wear Engine Oil  Treatment.
A best method to end oil burning.
If you found your engine using more oil than you like, you may have asked a mechanic for his remedy.  The surprise? Some serious engine work to correct the problem - costing $2000 to double that.
Well - your engine doesn't seem that bad!
Google may have listed us as a source of help because we supply several proven engine treatments.  The one for oil burning control shown here...
Since 6 conditions affect your motor and cause your oil burning, it  works best if you control all 6 areas.
Yet, products sold to stop oil burning  only thicken oil - Like Lucas  and Restore. Why you want to add  sticky  honey like goo to your motor when motor parts are already covered with sticky goo?
Why add sticky honey like stuff to an already sticky situation? Part stores and big box stores make a bundle$ off such harmful ideas.

Since, blowby, a negative caused by sticky piston rings, when sticky, they allow  combustion to slip pass the pistons to mix with the oil . Combustion and blowby  create acids. They then eat away your engine piston bearings valves gears and such smooth rubbing surfaces,.  Cause sludge buildup, oil burning, valve tapping and other power deterring conditions you're seeking help with.
A single ingredient product is like a bucket of water on a house fire. The same is true of your engine needs. Whats needed is a steady stream of help. 
What's needed is a total engine oil treatment. For example: Having a combustion cleaner advertised to clean the top piston ring  from the combustion engine top side, like item 4 in the picture. And item 2  and 3 from the bottom side. Then  a product like item 5 to remove sludge. and other conditioners  and cleaners like in item 6 and 1.
"This 6 ingredient treatment is what the Slo-wear Treatment  contains," says george christ, a trainer for mechanics on such. matters. Shown above, will get your car up and running good as near new again! And it is an engine oil treatment with anti-wear and co-polymers,  with conditioning  to stop thee loss of oil pass worn rings and valves - the areas deep inside so costly to fix by repair.
return to the motor its power lost, by time. That good news for car, pickup and big diesel truck owners with older equipment they want to keep going strong, for a few more years. 

Since 6 negative conditions affect all motors. Fighting those problems with the Slo-wear oil treatment shown  will end problems time, wear, and miles cause. This is what the treatment we found does to end those 6 negatives helping car owners return a great running, good as near new  advantage again!
Our Slo-wear Engine Treatment is what's needed. 
They help restore by removing the negatives that cause your car trouble:
 Slo-wear revitalizes seals - and gaskets giving them a slight sell stopping their leaks. Seals surfaces against future attack.
Slo-wear frees and cleans every part including valve, lifters and rings  to stop oil escape, quiet tapping; avoiding theiir repair need.

Slo-wear heals and smooths acid pitted, and wear roughen surfaces. This stops their wear out pattern prematurely.
Slo-wear layers a slippery coating on worn surfaces filling worn surface to quiet and return smooth operation. this stops oil escape along with the cleaning and freeing of piston rings.

 Slo-wear conditions the oil adding a chain characteristic that slows its escape; makes it harder for metal to metal contact and its wear and horsepower absorption- along with those advantages mentioned above.
Cleans the fuel system, injectors and combustion area.
Ordering Slo-wear.
Slo-wear comes as a 6 item, 2 step treatment. Easy to install.  Driving does the actual fix. Includes easy-to-follow directions, phone help, guarantee, shipped to your door in about 3 days by FedEx. Just $80 +$15s&h= $95 total. 
Engine oil treatments fight acids that wears out your engine faster,  makes sticky residues, ruins the shinny surfaces of your pistons, bearings, valves. that negative makes those part surfaces move sluggish,  burn oil - making you think your motor is worn out when its not! This treatment ends for you.
  Slo-wear makes  removing acids, residues, and reducing friction a prime feature to ending your oil burning - as an engine oil treatment with Mega Power's MC+.  Got that!
Since Slo-wear heals pitted, friction roughen surfaces - recovering a horsepower loss, this wear-reducing factor now will send that horsepower - onward to the wheels - for a zippy like feel you'll like returned to your car. Also...
Slo-wear fills worn surfaces - closing down the wear gaps - as the way to limit loi escape, and with its cleaning and freeing of your piston rings, Slo-wear chemically controls the loss and escape of your motor oil  - in those Hi-tech ways.
Slo-wear is added to the fuel tank, air intake or fuel tank, an motor oil in 2 stages, a week apart. Simple m tom install. Quick resutls.
That is the engine oil treatment that will work best, and is proven to end oil loss. Other advantages often add years more life to even older cars and equipment. Heavy equipment with larger oil capacities use Slo-wear in gallon amounts.
The Slo-wear Engine Oil Treatment uses water thin, Hi-tech chemistry to stop oil burning in older, high mileage motors in 4 ways - more effective, instead of sticky, molasses-like oil additives, sold for this purpose in part stores. 
Slo-wear provides older car,  older truck, tractor, cat dozer, even motorcycle owners many more advantages to end oil burning negatives than gooey additives, and put off overhaul need - as a remedy.
Sound good to you? Read on to see how you can benefit from this product from Slo-wear.
For many vehicle owners - including myself, we have found this product extends our vehicles life - and avoids costly replacement, while controlling smoke an oil burning problems.