WHAT ARE ENGINE VALVE LIFTERS?
Lifters are thumb-size metal parts with a pencil-size movable piston that closes wear gaps to keep your motor and its valves working smoothly,  yet quietly.
Why do they become noisy?
Motor oil under pressure pushes against the movable pencil-size piston inside each lifter to keep them in touch contact with each valve - moving outward as wear occurs, and keeping your motor operating quietly.

Lifters have a trap door that keeps the adjuster up. If one of several dirty conditions blocks oil from reaching the lifter, or keeps the trap door open, the adjuster collapses, making a space and the  tap tap tap noise that is so upsetting. That is how they become noisy.
What does Mega Power do to quiet them?
Since dirty oil and its residues cause the problem, oil of itself cannot clean up the problem. More powerful cleaners than detergents - which are already in oil, are needed. The 6 chemical cleaners in the Mega Power Engine Treatment do the job fast, and economically. About $250 if a mechanic installs the treatment. Under $100 if you do it. It's simple since you just add the product to the fuel tank and motor oil. And drive. That does the job!
What about dirty valves?
Valves also  gum-up and become sluggish and slow-closing. This also creates a gap, causing a tap. Mega Power cleans, and frees the valves as it cleans and free the lifters to end tapping.

TWO WAYS TO END THE ANNOYING AND NOISY VALVE LIFTERS

THE TRADITIONAL WAY.
You can dismantle your engine or pay someone between $2000 to $5000 to do it. It requires for you to be without your car for a week while your engine is disassembled, the new valve lifters are installed and your engine is reassembled.
It's ok if you have the money and don't mind being without a car for a week.
THE MEGA POWER WAY.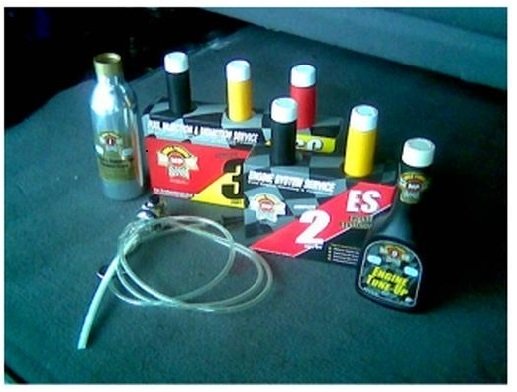 Since a mechanic spends most of your money in a repair cleaning, why not use chemicals that do the job better!
Better yet, why not use the only one to end noisy valve lifters and their tapping problem. Shown here. Mega Power uses 6 items to rid your motor of the 6 causes of noisy valve lifter tapping. 3 clean the valves and lifters from the top air fuel combustion areas. And 3 for the bottom of your engine oil side.
Get our Complete Engine Valve Treatment, 6 products, shown, shipped
to your door in about 3 - 5 business days. Includes easy-to-follow directions. Phone help if needed. We offer a full 100% Money Back Guarantee!
Just $80 plus $15s&h=$95 total Click buy button .
Install Directions
Mega Power uses a 2 step method 2 clean and
quiet your noisy valve lifters:
Step 1. Add bottle with #1 and #3 on cap to the gas tank and bottle with #2 on cap to your motor oil, and drive as you normally would for a week.

Step 2. Add bottle with #4 on cap to your engine oil and take your car to get an oil change.

After oil change, add bottle with #5 and #6 on cap to your motor oil. Those 2 steps quiet noisy valve lifters. Is that what you want? Free if it doesn't work!  The noise stops during the 2 steps!
Simple, right?
Mega Power , you already learned, uses chemical cleaners, it also contains MC+  a proprietary friction reducing metal conditioner and noisy valve lifter quieting aid. It lubricates load bearing engine surfaces, reducing wear and improving engine performance – extending your engine's life.
It coats, protects and restores your engine components by filling the micro fractures in the metal, restoring the surfaces of the engine parts to a smooth, shiny condition - just like when your engine was new.

If you feel your car, truck, tractor or motorcycle have the conditions mentioned above or a mechanic suggests you plan a major engine or transmission overhaul, Mega Power is definitely worth trying first.