Slo-wears Older Engine Additives. "They're like an overhaul in a can!"

 Our Review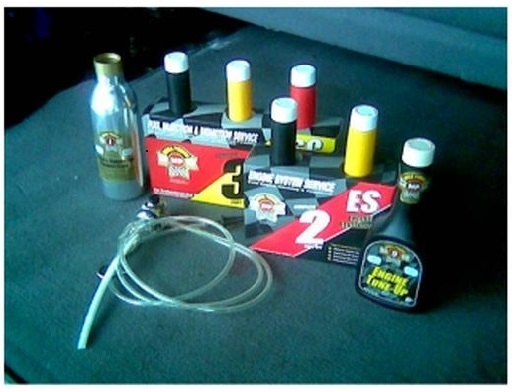 Slo-wear Older Engine Additives "makes" any vehicle run better, longer. Older worn ones run as if overhauled. Shown: Car pickup motorcycle boat treatment
A treatment to help older engines and transmission regain their former performance.
Slo-wear's older engine additives are a special selection of 6 products , each with a specific features when combined, and circulating inside the motor,  make each sub-system and its parts go back to being  clean, smooth, and close fitting - operating like when near new again for the owner!
That's where some car pickup diesel truck tractor  boat and motorcycle owners give it the nick name of an overhaul in a can! I'm one of them!
For many years, those 6 additives have been installed in every mechanical thing I own for its amazing-to-me like-new performance; which it provides almost instantly upon installation, then is maintained when a small amount at each future oil change.  Many more thousands have tried this treatment and become older engine additive treatment fans and promoters of it.
At first, it $100 cost, $400 in my big diesel trucks, was hard to pay for. That was because you don't know if you will get your $100, or $400 expense back - by any good received.
This all changed when I took a closer look at what this Slo-wear Treatment does in a older vehicles. I noticed one of my trucks that was burning oil, and wasting gas for its 235,000 miles of usage would go 50 to 75 miles further on its fill up each week and its oil burning went for 3 quarts in 6000 miles to 1 quart. Still running great at  295,473 miles!
Not only that, they all seem to start quicker, idled smoother, and produce a like new zip and power pulling a load up hills!  The closer inspection and education of the 6 products and exactly what they do is what had me give it the Slo-wear nickname, and designated these 6 as older engine additives.  The overhaul in a can idea applies! But at a fraction of overhaul expense.
History of the product.
Made to protect brand new engines - which stops the initial friction wear problems new engines and transmissions have - and basically adds it wear reducing value to the end of the motors life - extending its life.
Features.
When installed in worn motors, it revitalizes them to act as if years younger. Car owners say: Slo-wear is like an "overhaul in a can." So do I. My Review. 
Contact Info: In on a smartphone, to ask a question, order the products listed by phone, call me...george 512 665 3388
Slo-wear Older Engine Additives "makes" any vehicle run better, longer, older worn ones run as if overhauled. Shown, for one truck, or 6 vehicles.
Slo-wear is a clever invention that uses your older motors worst enemies to advantage to revitalize it!
Its usage will add years more life to any older, even worn out motors - as long as it is still running soundly, and has not any parts failure yet. Slo-wear does by chemical rejuvenation.
If you think about your motor now compared to when new, there is only the following difference between a good solid running motor and one that is worn with a lot of miles on it.
Surprisingly, the difference amounts to a couple handfuls of baked-on tar-like residues, and the worn away of metal surfaces the thickness of 2 human hairs.
In other words, when sticky residues bog down movement so your motors valves and piston rings - those power producers become sluggish, lowering horsepower by 10 to 20%.
And, as friction roughness on the surfaces of hundreds of parts require more horsepower to keep them moving, those 2 negatives sap power away from the wheels. This  may make you think your car is worn out - and you may be right! However.... Please Note...
The 2 ways to help older cars trucks tractors Rvs motorcycle and boat motors.
One way is to have a mechanic will tear your motor apart, give it a steam or solvent bath to remove those residues, and replace most of the worn parts with new ones.  It takes a week or two and  up to $4000 or more in expense to get your car back. The way we do it...
We install Slo-wear in the motor. Slo-wear's older engine additives also remove those horsepower sapping negatives.  And it fills worn spaces on every part - instead of replacing them. Car owners say of the results: Slo-wear is like an "overhaul in a can." Actually, 6 cans.

Slo-wear Engine Treatment, chemically frees and cleans every engine part. It does so in the 6 motor subsystems top to bottom. From gas tank to exhaust tip. This cleaning, conditioning restores your motor's full horsepower making ability - which occurs after an easy install - and driving. Nothing to take a part.
Transmission helper.
A variation of the older engine additives is a 3 item treatment does the same for transmissions.  Order both to protect your engine and transmission.
At future old changes the Mega Power Engine Touch Up Treatment keeps the benefits going.  A great invention. Slo-wear is shipped to your door in 3 days by FedEx. Order now and end this worry about your engine.
How I think it works from what I've learned.
Using the motors worst enemies: Heat, pressure, and movement, Slo-wear ingredients clean, smooth, friction roughen surfaces - ending their wear and horsepower stealing ways - again allowing that horsepower to give your car extra zip and fuel economy.
A slippery co-polymer fills over worn spaces - chemistry resulting in a smooth, quiet running motor again stopping oil burning and engine noises. This returns full horsepower ready to speed you down the highway - as if overhauled. Of course, its amazing chemistry working to give you that advantage. This is what your engine needs! Order Slo-wear now!
Slo-wear's older engine additives is a lot less ex than an overhaul. Surly, not  EXACTLY in parts and rebuild like one...... But for the fugal person, looking for the most value for his hard earned dollar - it provides close results to one at a 1oth of the cost.
Ordering Info:

One Slo-wear Older Engine Additives Treatment. Includes 6 items shown for a car, pick up, boat or motorcycle motor, easy to follow install directions, phone help, guaranty. Just $80 +$15s&h= $95 total.
Combo special.
Order one Slo-wear Older Engine  $95, and one Transmission  Treatment $75. Includes 9 items shown, easy to follow install directions, phone help, guaranty. Just $125 +$15s&h= $140 total. Save$30.
Slo-wear Older Engine Additives. "Their like an overhaul in a can!" Save your engine and your budget with Slo-wear!